First and foremost, full disclosure seems in order (and very much in the spirit of Too Much Information): I have never eaten a McDonalds McRib sandwich (TM?) In fact, I'm not sure I've ever seen one in the, um, flesh — if something as hyper-processed as the McRib (or, for that matter, McNuggets or Spam or… you get the idea, the list goes on) can still be considered flesh. Maybe it's like honey in that regard, if it gets sufficiently processed it can no longer be called by that name? I don't know. Anyway, that seemed like an important bit of information to get out of the way: this post is more about the McRib as cultural phenomenon than anything else. For whatever reason last week seems to have been McRib Week on various and sundry online media I follow, and so here are the items that made me say, "Ok, clearly I need to do a TracyFood post about this," starting with some hilarious conspiracy theory economics, and ending with comics for people who want to skim past all that boring long reading stuff.
* * * * *
Peter, who collects conspiracy theories, showed me A Conspiracy of Hogs: The McRib as Arbitrage by Willy Staley, which is really fantastic stuff — but you don't have to take my word for it! It also got press—I mean, electrons—from BoingBoing and Kottke (who gets a hat tip from Cory Doctorow's BoingBoing post, so… I don't remember what point I was going to make about that.)
On to the comics! This one comes first since it's sort of graph-y and that makes it relevant to economics, right? There are graphs in the original Staley post, so there's your connection. Boom.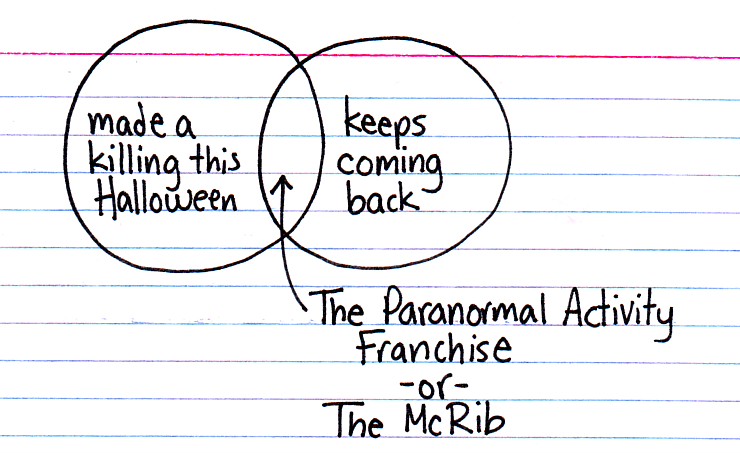 "Some people think it's real!" by Jessica Hagy, used without permission but in 100% fangirlhood, hence all the linkage. Please click on this link or the image itself to see the full-size version in its native habitat.
And finally, when I stop to think about it this comic could have made just as nice a transition from the conspiracy theory stuff since Jeffrey Rowland is a master of that sort of thing (seriously, he's awesome at it), but instead he provides me with a punchline of a grand finale, yay!

"Snowloween" from Overcompensating by Jeffrey Rowland, reproduced with permission according to small print in the comic and on the website where said image is better viewed full-size anyway.